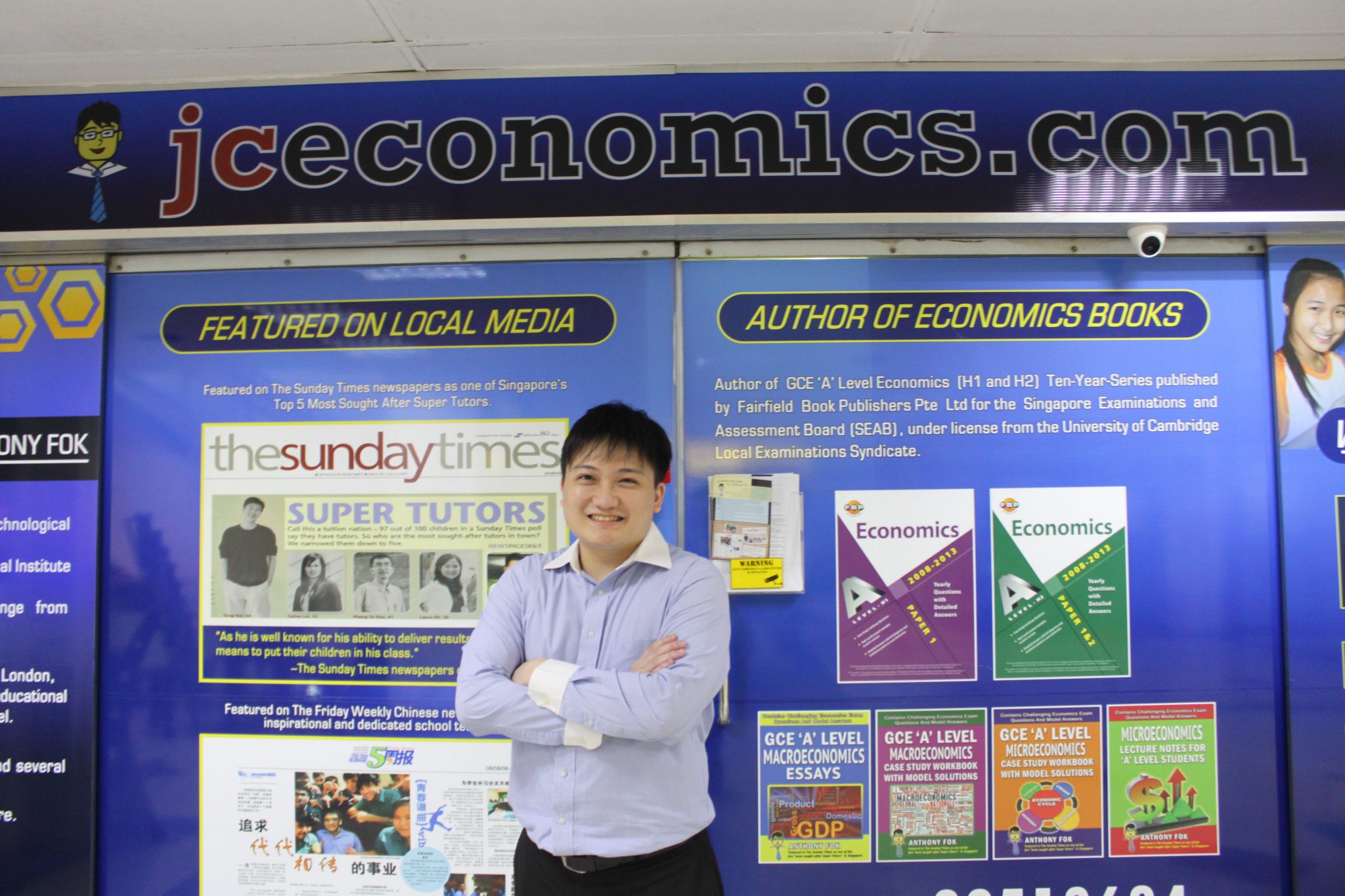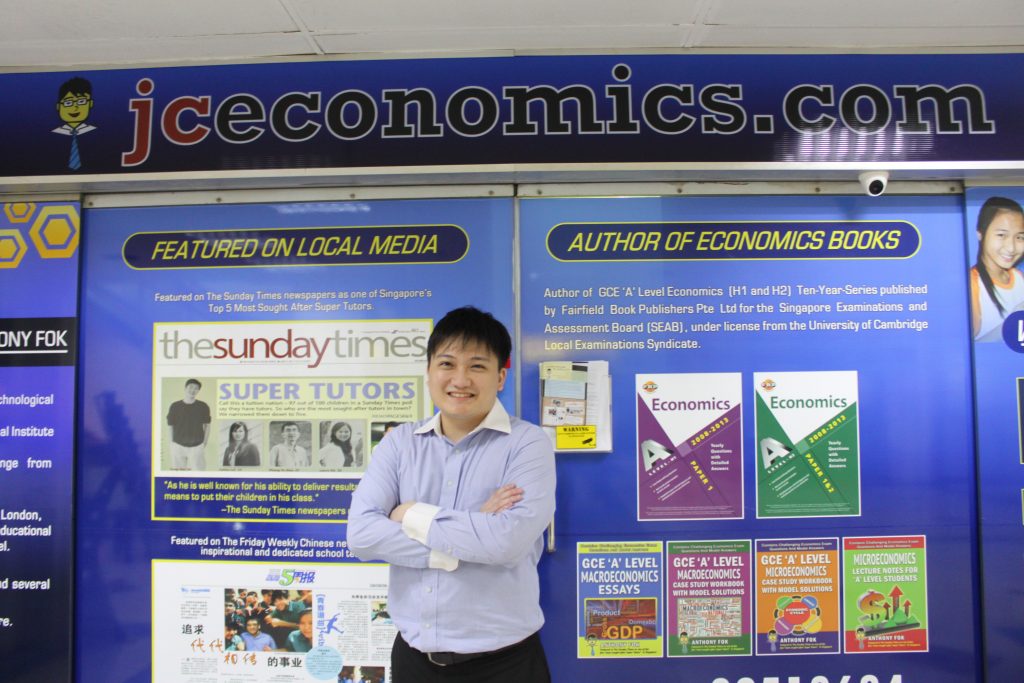 JC Economics Education Centre is the leading provider of Junior College Economics tuition in Singapore and is the preferred choice of many parents and students in Singapore. Our Economics tuition programme mainly focuses on understanding of key Economics concepts by making them interesting and relevant to the students. The principal tutor, Mr. Anthony Fok, is one of the five "most sought-after Super Tutors" in Singapore, as featured on The Sunday Times newspapers. Mr. Anthony Fok's breadth of personal and professional experience has enabled him to teach Economics in an interesting and engaging way. Students will be taught how to tackle economics questions effectively to avoid common pitfalls and mistakes. They will learn shortcuts to mastering the subject and use structured framework to organise their answers in a coherent and systematic way. Students will also receive 24/7 support via WhatsApp consultations and personalised feedback on their homework assignments. Having taught more than 15 years, Anthony Fok is highly sought-after and competent in teaching JC Economics.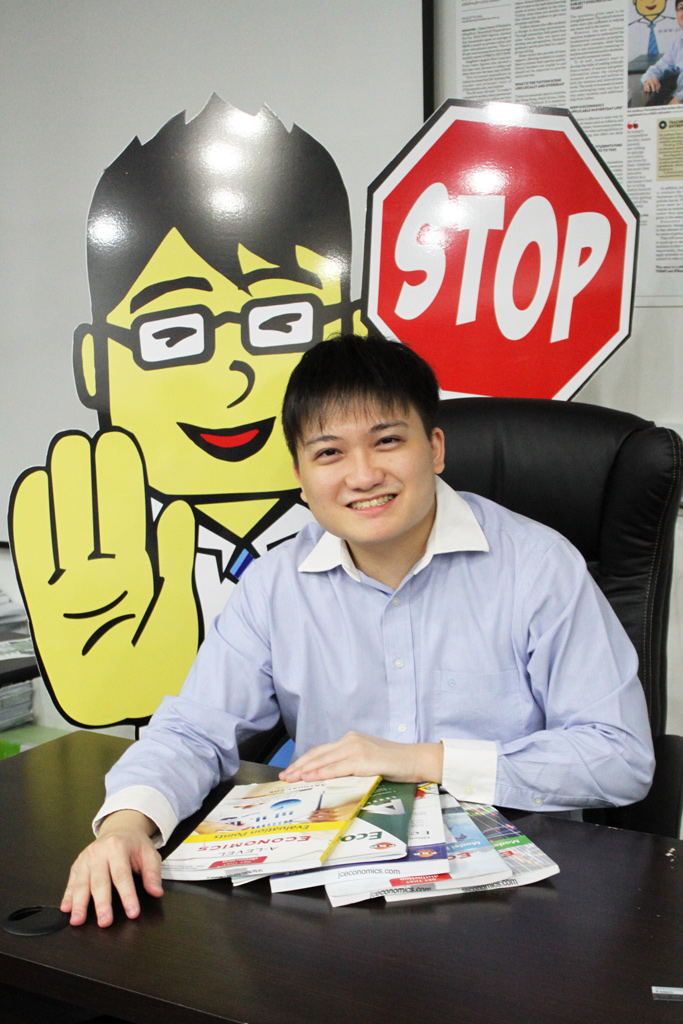 Mr Anthony Fok's dedication to his students is unwavering. He strives to bring out the best in each of his students by providing them with personalised attention and support. He is always willing to go the extra mile to help his students, and is available to  them via WhatsApp and email outside of tuition hours.
As a former MOE school teacher, Mr Fok is familiar with the latest developments in the education sector and is always updating his teaching methods to ensure that his students receive the best education possible. He is constantly working behind the scenes to create high-quality worksheets, notes, and lesson plans that are tailored to the individual needs of his students.
Mr Fok's passion for Economics is contagious, and he has a unique ability to make complex concepts easy to understand. He uses real-world examples and analogies to help his students grasp difficult concepts and make connections between economic theory and the world around them.
As an author of several Economics guidebooks, Mr Fok has a deep understanding of the subject matter and is able to explain it in a way that is both engaging and effective. He has been featured in the press, on radio and on television, and is well-respected in the industry.
Overall, Mr Anthony Fok's dedication, experience, and passion for Economics make him an exceptional tutor and the driving force behind the success of JCEconomics.com.
"Precise and clear teaching across the different topics that helped me understand economics better after struggling for a year plus. During our three hour sessions, he shares his funny experiences and lifelong lessons that keeps us awake in midst of the content heavy lesson. Knowing the last minute chiongsters like me would panic before exams, the day before the econs paper he slept late and woke early to cater to our last questions. A jolly and genuine teacher would be a fairly vivid description of Dr Fok."
Shanti (Catholic Junior College –  2020)
"Mr Fok gives clear and concise lessons, even though fast-paced, it really cleared important concepts which were not emphasised in school. Apart from lessons, the notes provided were comprehensive and easy to understand. Mr Fok is usually prompt when questions are asked online and this helps to clear doubts in an efficient manner. Aside from that, he has provided insightful tips and advice in life, and has preached to go beyond grades to achieve more in life, which is encouraging to hear. Overall, joining Mr Fok's class was a great decision and I have gained more interest and knowledge in Economics and beyond.
Charlotte Chia (National Junior College – 2019)
"Mr Fok is an excellent teacher. Before joining his lessons, I felt that econs was a very boring subject. When I tried reading my lecture book, my eyes would automatically close. However after joining his lessons, his notes was straight to the point with good evaluation, which was very different from my school's lecture book. After a while, econs was the subject I was most confident in. Totally recommend joining his tuition. it's very worth it and effective." 
–Xin Hui (Tampines Meridian Junior College – 2020)
"Dr Fok is someone that really goes the extra mile for his students. Although he has many of students, he ensures that all are well taken care of and all are given the 'A grade' weapons. He is also one that throws in life lessons into the mix, which given his expertise and career experience, is something that I will carry with me for a very long time. Dr Fok also encourages us to dig deeper and motivates us whenever he can so as to do well for our examinations and gives great advice for the steps ahead, especially leading into an examination. Thank you Dr Fok for making Economics such an enjoyable subject to learn!"
Matthias Lee (Anderson Serangoon Junior College – 2020)